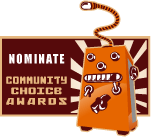 The SourceForge.net Community Choice Awards 2009 have started.
We invite you to support our little project by casting your vote.
The natural category for ScummVM would be Best Project for Gamers,
though if you feel that we could be Best Project, we wouldn't
mind much; a project can be nominated for more than one category
this year.
The Scary Robot is the mascot of these Awards, and in order to vote for ScummVM, click the mascot or this link.
We hope to see you in the finals!
P.S. For the live photosession of the Scary Robot see Fingolfin's blog.