Latest DevelopmentsLatest Developments
If you want to be the envy of everyone in your neighborhood, be sure to be seen around in your beautiful new ScummVM T-shirt. Designed with the cooperation of the ScummVM team, this understated and elegant item will truly show off your adventure game leanings to the initiated. Plus, combobreaker.com are donating to the ScummVM project for each one sold!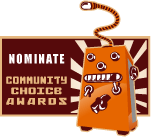 While we're on the subject of helping ScummVM, please vote for your favorite point-and-click adventure game engine interpreter in the Sourceforge Community Choice Awards. Thanks to all the people that nominated us, we've made it through to the final round. If you click the link, ScummVM will be pre-selected in the Best Project for Gamers category, and you can go on and choose your favorite open-source projects in the other categories.